The WAHM-IT! Masters Course
Help for the Work at Home Mum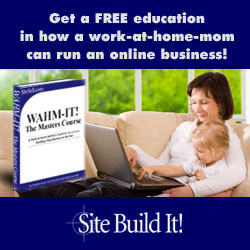 Did you know that almost half of all adults using the internet are mums? (Or moms as our transatlantic cousins will have it? Mothers, in any language.) And apparently, many are dreaming about working from home, about having some sort of online business.
If you do, than you've most likely come across all the wild and wonderful 'opportunities' that the internet seems to be littered with.
You know the ones I mean: send me your credit card details and I'll tell you how to be a millionaire by tomorrow morning... and others like it.
You'll have binned them all and probably feel thoroughly confused and not sure whom to trust.
How about another work at home mum who's been there? Or - more to the point - four of them.
The WAHM-IT! Masters Course, written and presented by four work at home mums (WAHMs), will introduce you to a work solution that "fits" naturally with your family needs and yet is rewarding, exciting and soul-satisfying for you.
This is no forbidding tome of doorstep proportions. It's a friendly book - written by four work at home mums, who all run successful online businesses. They didn't start out that way. They're not high-flying city execs with a huge staff of minions.
Elizabeth, Cate, Jennifer and Erin (and several other successful WAHMs) in The WAHM Masters Course are busy moms just like you and they know what it's like. They won't waste your time.
Instead, they'll tell you everything you need to know to run a business, from reviewing all your options and getting organized to work at home, right down to the nitty-gritty of how to actually build a substantial income online. And they'll use their own businesses to show you how they did it.
As soon as you start reading, you'll realise that you can do this, too!
As long as you don't mind work, you don't need any technical knowledge or even business experience. Just bring a desire to make it work... (but you must bring that!)
An online business is affordable, flexible, and convenient. It fits around your family commitments. Follow the many other work at home mums who are running their online business and change your life! (You won't believe the sense of achievement you'll feel when you get the first cheque from your online business!)
So what are you waiting for?



Download the WAHM Masters Course today!
Find out how to use the internet for business, the right process, and the right tools to achieve the work at home success that you have been dreaming about...
Be there for your kids, generate long-term income (that could very well become your family's primary income), fuel your own creativity and passion, and of course, have fun!
Right click to download the WAHM-IT! Masters Course!
(You are about to download a pdf file ("wahm-masters.pdf"). Save it to your desktop. After you have downloaded, double-click it to open.)